Creating your signature piece
Custom design is all about connection and communication. A highly personalised piece of jewellery is necessarily an experience of co-creation. I start by asking questions about lifestyle, personal taste and the occasion for which the piece will be made.  After an initial phone or video call, an email correspondence follows to share images, sketches and computer drawings before confirming a design. It is a straight-forward process that results in the creation of an artful one-of-a-kind piece. (that faithfully and indelibly captures a significant aspect in one's life.)
Custom 20 karat recycled green gold with salvaged titanium and volcanic rock.
On a far away beach Sylvie and Patrick collected a few black stones. Now inlaid in their custom wedding rings, the memory of that place and of their shared precious moments is embedded in this set of rings.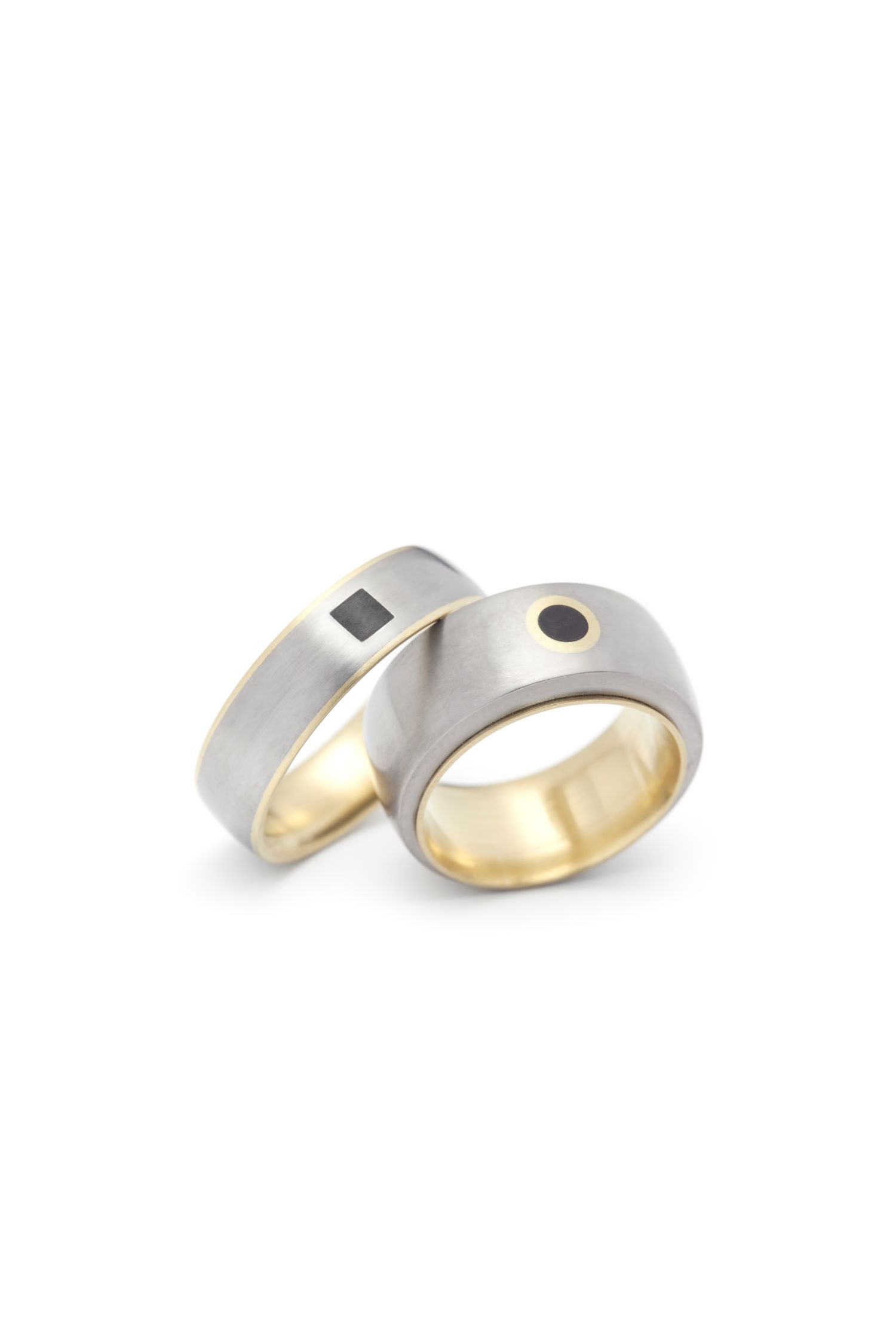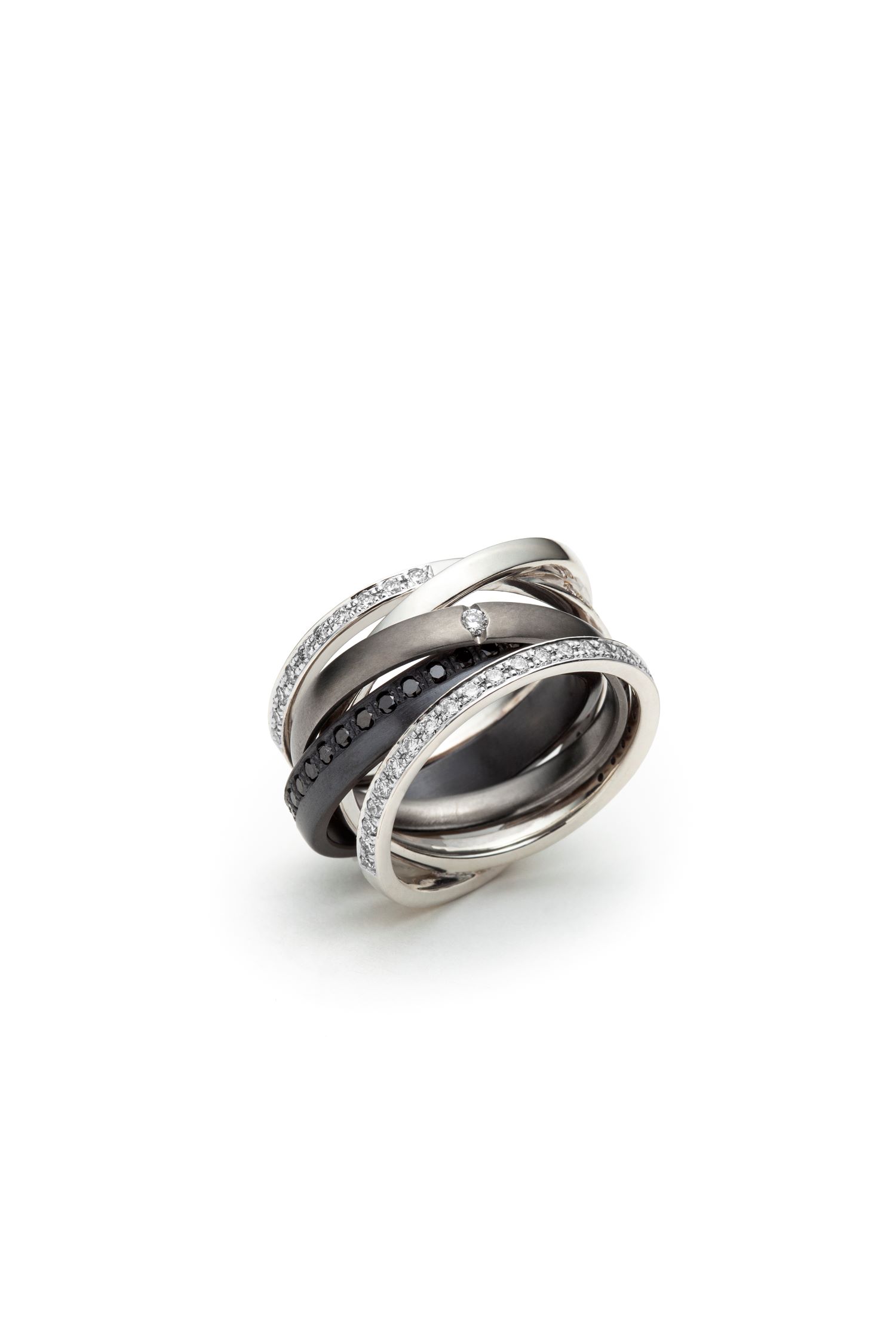 Lab grown colourless diamonds, black natural irradiated diamonds, niobium, upcycled titanium, recycled sterling silver.
This multi-layered ring was created for a working mother of two and represents different aspects of her life. The silver bands with diamonds represent her children, the titanium band with a single diamond is reminiscent of a lost engagement ring and the luxurious black niobium band with black diamonds represents herself.  All are coiled together making this lustrous ring with which she never parts.
14 karat white and rose gold two cube shaped diamond crystals and one octahedral diamond crystal.
This rose and white gold pendant with three rough diamond crystals was commissioned by a former student and jewellery shop owner Valerie. I was honored to have been granted 'carte blanche' for the design!
Colourless natural sapphire, forged titanium and sterling silver.
This duel forged titanium and silver coil ring is set with a colourless natural sapphire and is a beautiful representation of the couple for whom it was created. Sapphires, although slightly less hard than diamonds, are considered more durable because they are less prone to breaking, especially when worn in rings. So voilà – the most durable of gems representing the enduring bond they share.
Cluster engagement and wedding band set
Repurposed and new diamonds, white and rose gold with a yellow gold encrusted titanium band.
Four diamonds set in white and rose gold with a removable adjacent band also highlighting a diamond – a bouquet of brilliance created for Pascale by salvaging and redesigning her former engagement ring.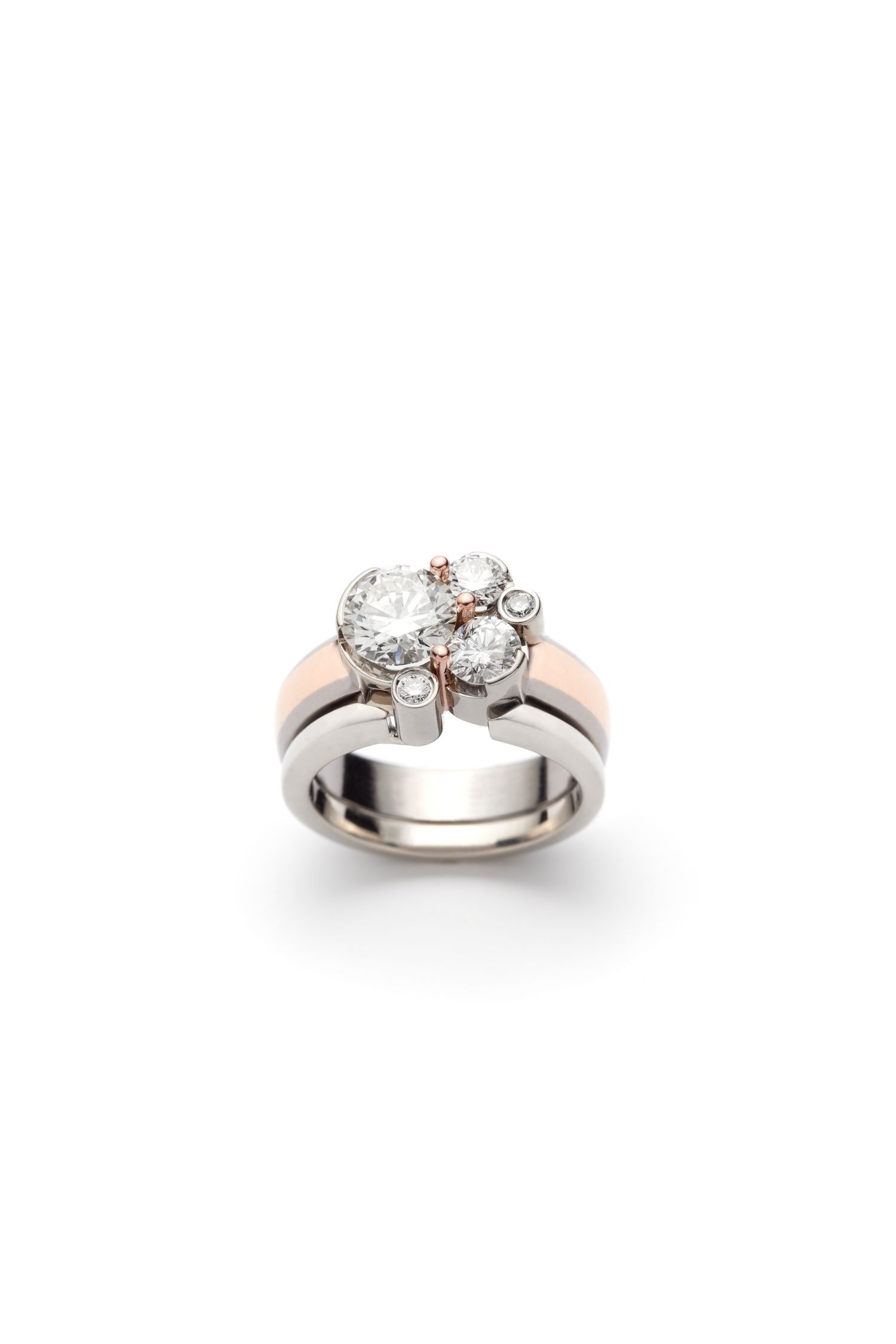 Reclaimed and new colourless diamonds with 14 karat white gold.
Five diamonds were reused and bezel set in this stacking ring collection to which a striking line of pavé diamonds were added on one band. The repurposing of Sophie's inherited jewellery is a perfect way to honor their matrilineal origin while remodeling the style exactly to her taste.
Reclaimed titanium, fine silver and repurposed diamond.
This smooth grey titanium band with a pure silver inlay and sleeve with a burnish set diamond is the perfect combination of practicality and sleek design. Created for Fabienne who wanted to reuse diamonds passed down through generations, it is a sentimental piece that she can wear on all occasions. 
18 karat yellow and white gold.
This puzzle ring design shows the sacred geometric construction of the buddhist dream flag. Its design came to the Gyalwa Karmapa in a dream and he proclaimed that " Wherever this banner is flown the Dharma will flourish".  This ring was created for Stephane, a practicing Buddhist, and is his way of letting the Dharma flourish around him.
Reclaimed titanium, carbon fibre and 14 karat white gold.
This sleek modern design for a men's wedding band features carbon fibre held in place with eight hexagonal bolt-like rivets. The titanium allows it to withstand the stresses of any active lifestyle. It was created for Yves, both a builder and a biker.
Wide leather cuff with sterling silver.
3D printed sterling silver mounted on bands of leather, this semi-futuristic QR code bracelet is an impressive display of mens jewellery and in addition serves as a promotional tool for my client Simon's art.
Reclaimed titanium with laser engraving.
Titanium bands engraved with their own cardiograms were created to personalise these wedding bands.  The exact coordinates of my clients' places of birth are the numbers engraved on the inside of the bands making them the most unique means of capturing each other on a piece of jewellery.
Green and colourless diamond ring
Natural colourless diamonds, green irradiated diamonds and 18kt white and yellow gold.
Inspired by various styles and materials, this piece was created by using a combination of elements from Louise's favorite rings.
999.99 Fine silver and lavender chalcedony.
This stately architectural design was inspired by the high dome of the square cabochon gem. The robust construction of metal is the perfect pedestal supporting the ample volume of the lavender chalcedony.