what my clients are saying
"listening is the starting point"
As a client, I have greatly appreciated working as a team with Christine. She has a great openness and facilitates the expression of my point of view. For her, listening is the starting point, then she offers her ideas to truly create added value.
Stephane
"My object of desir!"
Christine is an artist who is engaged and attentive to my wishes. She is perfectly in tune with the pleasures of life! It shows when you meet her!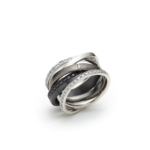 Elisabeth
"Revamping my engagement ring"
The craftsmanship and attention to detail that went into the design and execution of the piece were exceptional.
Pascale
Latest From Christine Dwane!
Please provide your email to stay up to date on all that Christine is creating.